---
Winwick
---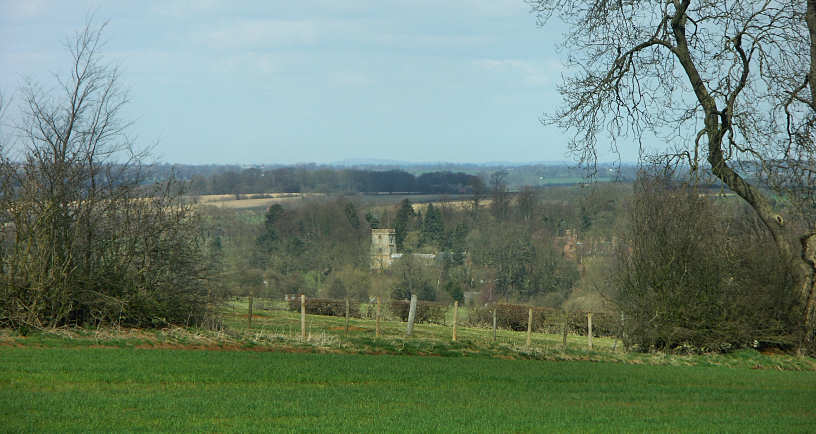 This is the church of St. Michael & All Angels C of E in Winwick where so many of the Orland family were Baptised, Married or Buried in the late 1700s and most of the 1800s.
During this period families used the same church for all these occasions.
After moving from Billesdon in Leicestershire, probably in the early 1770s, Winwick in Northamptonshire was the new home of John Orland where he met and married Prudence Simons. It is only a small village which had a population of just 165 at the time that the 1841 census was taken. John and Prudence's marriage there on 23rd April 1781 was the first Orland ceremony in Winwick and marks the beginning of our "modern day" family line which moved on through West Haddon and Rugby, finally settling in Coventry early in the 20th century.
Here is a link to a family tree diagram showing how the descendants of our families in Winwick have moved and created branches of their own. As more information becomes available, I will update the picture accordingly.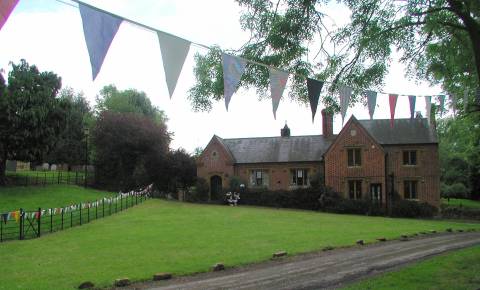 The Old School House here is now the residence of the Winwick Church Warden.
John and Prudence had seven children as detailed below:
Their first son, William (born 1782) died in 1810. I have no records to show that he might have left any family of his own.
The second son, John (1785) was my great-great-great-great-great-grandfather. More information on our direct line of descendancy is on the Orlands page. Our Orland line stayed in Winwick for a further three generations until John and Pru's great-grandson Thomas moved to the nearby larger village of West Haddon with his wife Jane and young son William between 1857 and 1859. By the time of the 1881 census, many branches of the Orlands had moved to West Haddon. However, from there they appear to have gone their separate ways. In 1902, William's son, Herbert John, got married in Rugby to Elizabeth Mortimer, after which they settled in Coventry to have their first child, Doris, in 1903. Their fourth child in 1911 was another William and he was my granddad.
John and Prudence's third son Daniel (1788) moved to Flore and started his own large family there. He had two sons who gave him fourteen grandchildren. Some of these started families further afield in Derbyshire and Middlesex.
Ann (1791) Married Thomas Masters on 6th November 1815.
Thomas (1796) sadly died aged only three in 1800.
Prudence (1803) Married George Newman on 12th February 1829. More about this is on the Orlands page.
Jane (1806) Married Thomas Lissaman on 5th December 1827 and had five children: Eliza, Mary, Thomas, Ellen and James.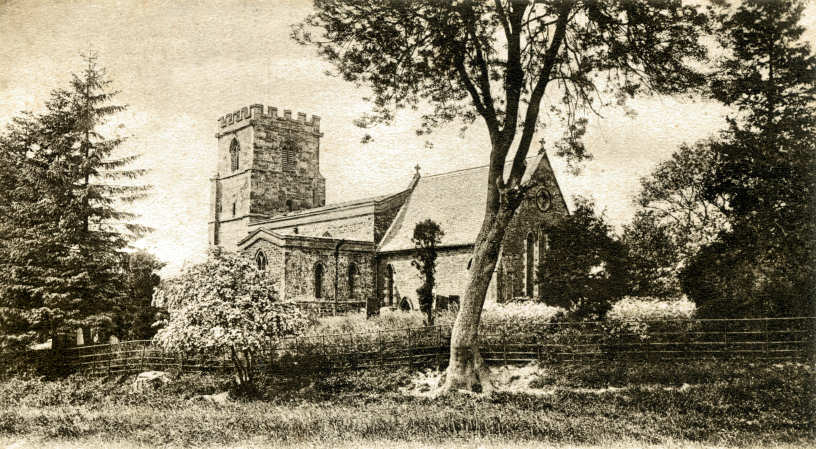 This atmospheric photo showing the church from the south east was taken for a Valentine's postcard issued around 1900.
From the peaceful village of Winwick, many families eventually moved out to find work elsewhere and bring up their own offspring. As was often the case in those days, large families were the norm and the Orlands were no exception.... Here is a fascinating portrait of family life from the early 20th century. It shows John Mortimer Orland and his wife, Elizabeth (formerly Cole) with all of their nine children.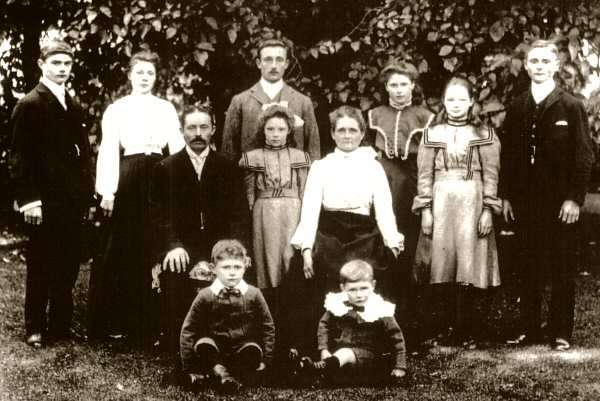 Hover over each face to see who is who.
Although born in Winwick, John's marriage to Elizabeth Cole took place in 1880 at her birthplace of Kilsby. This was quite usual; traditionally wedding ceremonies have taken place at the bride's parish church. It seems apparent from the 1881 census that they first set up home in West Haddon where, later that year, they were blessed with their first child, Ellen (known by all as Nell), but they eventually settled to have the rest of their children in Kilsby. However, by the time the 1901 census was taken on the 31st March, the family had moved to Long Buckby.
Born in 1857, John Mortimer Orland was one of the five children (see the West Haddon page) of John Orland and Jane Mortimer, from whom it appears he took his middle name.
It is indeed a rare thing nowadays to be able to take such an impressive family picture, not least because so few families are so large. It's also difficult to find photographs a century old that are in such lovely condition. I am therefore very grateful to a most helpful lady (and distant cousin of mine) named Sonja, for providing this beautiful photo. Her grandfather Frederick is the eldest son in the centre of the back row.